About Oberon Design
All About Oberon Design

All of our products are handmade in Santa Rosa, CA. We don't hold inventory, we make it when you order it!

"Brendan's Leather Book"

by Brendan Smith, the owner and founder of Oberon Design
Collapsible content
The Founder

In 1967, Brendan Smith, the owner and founder of Oberon Design, embarked on a course of artistry that has occupied his life for over forty years. A talented musician and composer, author, gardener and entrepreneur, Brendan steadfastly adhered to a vision of quality and 'do-it -yourself' simplicity in his leather artistry and business practices that has stood the test of time. At age seventeen he began sewing leather with a needle and thread then borrowed a sister's sewing machine. Wedging it inside his bedroom closet, placing a chair in the open door and hanging various tools and findings on the inside of the closet door, he provided himself with a mini leather shop. Many broken needles later, he purchased an aging industrial quality machine and graduated to an attic room where he set up his first real workshop.

When Brendan was seventeen, he cultivated two important relationships: an incongruous friendship with the cowboy owner of a local saddlery shop who mentored him in the nuances of leather craft. At this time he also made friends with a family who owned The Hide House, a local leather supply business. Oberon Design still works with The Hide House, a treasured and honored working friendship of forty-five years. With their help, Brendan developed his skills for precision and design, sketching in notebooks and spending long hours experimenting and creating in situ at the sewing machine. He set up his first retail venue in his hometown, making and selling sandals and hats during the Summer of Love. With his budding success as a craftsman, Brendan began to identify himself with a life of creative process.
A Short History

During his college years Brendan supported himself with leather craft, expanding into moccasin making, handbags, belts and wearable art in the form of figurative whole-head masks of extraordinary character. He published a 'how to' manuscript entitled Brendan's Leather Book. Humorously well written and illustrated by Brendan, it was favorably reviewed and achieved a healthy round of five editions totaling over 40,000 copies. One Bay Guardian reviewer quipped that "It would charm the hide off a cow." Although out of print, it still enjoys a healthy circulation online and in used bookstores.

Brendan developed a following for his leatherwork during the seventies and eighties under the name Walking Foot Leather. His reputation grew out of his direct rapport with customers in his booth each year at the original Renaissance Pleasure Faires. In the late 1980's he expanded his business to accommodate a large order for leather fanny packs for a national department store chain. From this expansion sprang the concept of leather journal covers whose popularity in museum shops and gift and book stores across the country lead to the creation of Oberon Design as a company that has flourished since 1992.

Beginning in the 1990's Oberon Design became a vital and well recognized part of the handmade, craft revival in the United States, participating in elite juried venues such as American Craft Council shows and Buyers Market of American Craft, joining the ranks of the most highly recognized craftsmen and women in the U.S.

In 1999, Oberon Design further expanded to include a Britannia metal casting shop that produces the hand cast buttons seen on most Oberon leather covers, and our line of gorgeous metal jewelry, hair accessories and gift items.
Oberon Today

In early 2020, Oberon Design merged forces with our long time colleagues in the local leather craft industry. It's an exciting change and will allow Brendan to enjoy his well-deserved retirement with confidence.
Occidental Leatheris a local company, specializing in leather tool belts and bags, with the same care for craftsmanship and quality as Oberon, as well as the same family vibe and core work ethic. In fact, you could say that Occidental Leather and Oberon Design are cut from the same cloth.
As for current and future operations, We continue plugging away the Oberon way, with our same products and the same Oberon flair and artistry, only now with our two companies being able to offer each other so much in terms of resources and support, this is just the beginning of greater things to come.
At Oberon we're proud of the fact that the design and casting of our Britannia metal line and all our leather work is done "in house". This combined with our source for domestically tanned leather, use of local and domestic businesses for resources such as non-toxic glues and dyes, thread, zippers, and other items used in our leather and pewter processes; in addition to in house production of catalogs and websites, make Oberon Design what it is today, a good old fashioned, hands on, hard working American company.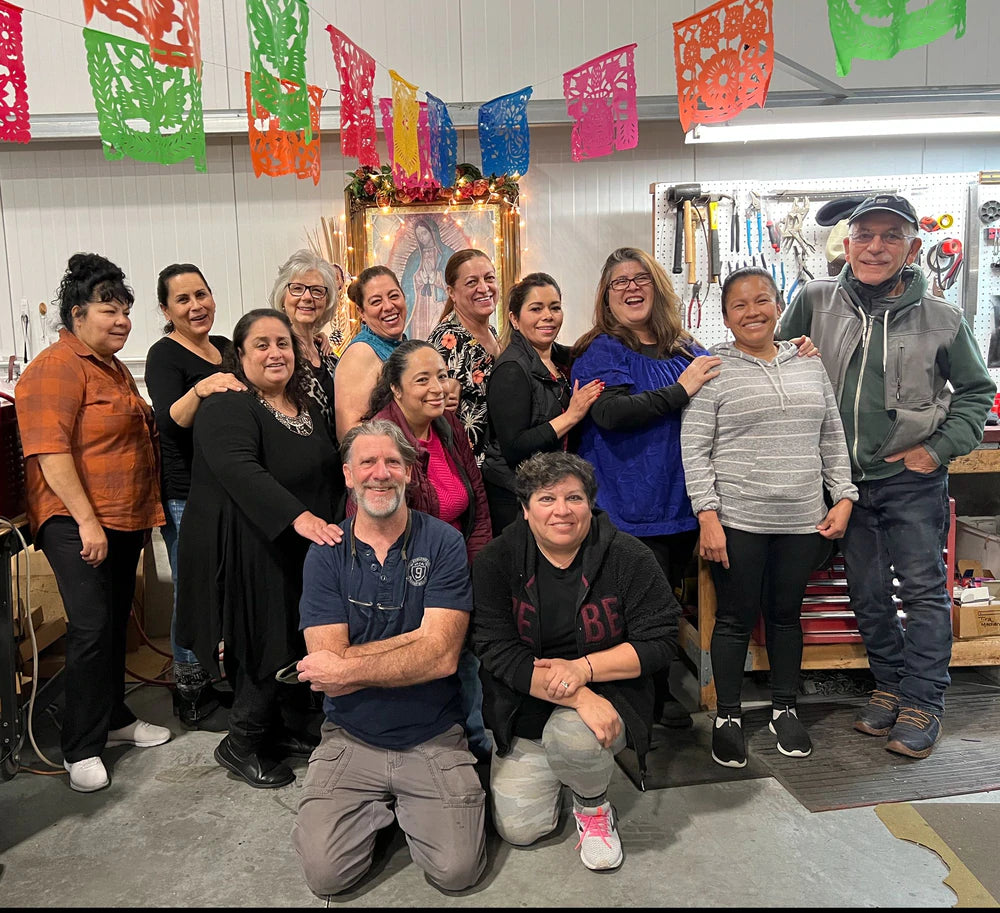 The Oberon Design Team
Oberon Design is a small company of core crafts people passionate about the quality of the leather and pewter products made in our studio shop in Northern California. As a team we have a deep commitment to quality, pride of craftsmanship and customer service. Most of the folks making products at Oberon Design have been working together from ten to twenty years. This makes for a family atmosphere and a team spirit that contributes to the quality and commitment evident in our products. We try to have as much fun as we can while hard at work.